XCMG QY25K5-I Truck Crane
• Leading performance: the boom length in full extension is 39.5m, the performance leading in 5%. The grade ability is 40%, which make the machine have good road adaptability.
• The unique U boom and plug-in boom head make the load-carrying capacity more balanced, and lift more smoothly.
• The unique stretch and retract technique prevents the misoperation; the stretch and retract of the boom is safer and more reliable.
• The innovative jib system adopts embedded block, plug-in boom head and octagon jib, which has excellent lifting performance and safe and reliable lifting work.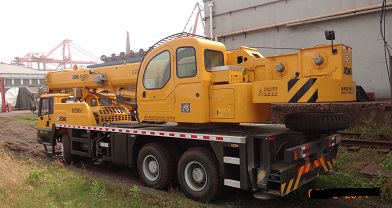 Item







Unit

Dimensions

Total length

12300

mm

Total width

2500

mm

Total height

3350

mm

Weight

Operating Weight

31750

Kg

Front axle load

6550

Kg

Rear axle load

25200

Kg

Power

Engine model

SC8DK280Q3/WD615.329




Engine power ratings

206/2200 213/2200

Kw(r/min)

Engine torque ratings

1112/1400 1160/1400

N.m(r/min)

Travel

Max.travel diameter

80

Km/h

Min.turning diameter

22

m

Min.ground clearance

260

mm

Approach angle

16

.

Departure angle

13

.

Max.gradeability

40

%

Fuel consumption of 100km

37

L

Driving Parameters

Max.total lifting capacity

25

t

Min. working radius

3000

mm

Turning radius at swing table tail

3.065

m

Max.lifting torque

961

Kn.m

Basic boom lifting length

10.4

m

Longest boom lifting length with secondary arm

47.8

m

Longest boom lifting length

39.5

m

Outrigger longitudinal distance span

5.14

m

Outrigger lareral distance span

6

m




Working speed

Elevation duration for secondary boom

68

s

Elevation duration for fully extended boom

150

s

Max.rotation speed

2.5

r/min

Max.speed for main winch

125

m/min

Max.speed for auxiliary winch

125

m/min